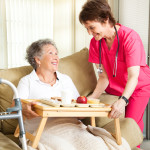 Providing elderly care is a vital job and as it's your job – no matter whether you're caring for a family member or you are a home care aide –  you should focus on ways that you can help improve life for the elderly individual. One of the most important aspects of elder care services for some is helping the patient prepare meals to eat.
When a person begins to lose their ability to do certain things around the house, or when they might have lost a spouse who used to do a majority of the cooking, they may resort to simple, pre-made meals. These pre-processed meals don't generally have much nutritional value to them. In fact, they might not have much of anything healthy for the patient.
When you are in charge of preparing meals, focus on three powerful diet tips.
1. Get more Omega-3 fatty acids into the diet. Fish and flaxseed oils have Omega-3 fatty acids in them. This supplement is proven to have an impact on reducing the risk of heart disease, cancer, and arthritis. While it may be too late to reduce the risk of these health issues in the patient, that doesn't mean they won't help to alleviate some symptoms that the patient is feeling.
Adding more fish or supplements to the diet can help. You just want to make sure that this doesn't interfere with any medications that the patient is taking, so you should ask them to check with their doctor or pharmacist.
2. Include calcium and vitamin D. The older that a person gets, the more they actually need calcium and vitamin D in their diet. However, most people tend to get less of these nutrients. People over the age of 50 should be consuming at least 1200 milligrams of these nutrients, which is about equal to four cups of milk. Many people become lactose intolerant as they age, so it is a challenge.
Encourage the elderly individual to check with his or her doctor to find out if they can or should take any type of supplement for calcium.
3. Watch the salt intake. Salt can directly impact blood pressure. It can cause high blood pressure, or hypertension, so try to cut as much salt out of the diet as possible. Some people try to use a substitute or sea salt, but if you can wean salt out of the diet altogether, it will have a more positive impact on their health.
When you focus on diet, you'll be able to deliver more positive elderly care.
For more information about elderly care in Little Neck, NY and the surrounding areas, contact Best Senior Home Care at 917-880-9373. Serving Bayside, Flushing, Fresh Meadows, Whitestone, Forest Hills, Little Neck, Auburndale, Queens Village, Bellerose, Manhattan and surrounding communities.