Elderly Care in Manhattan, NY – Explore the Benefits of Piano for Seniors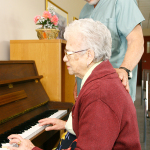 September is National Piano Month, so let's talk about how playing the piano can boost quality elderly care. Anyone who requires elder care services will likely be facing a number of physical challenges. They may also be enduring some mental health challenges as well.
Depression is one of the most significant melt mental health issues that elderly individuals face. When they begin to lose the ability to do various activities and things that they used to enjoy, or to be able to take care of themselves properly, it can be frustrating and lead to depression.
Even for those elderly individuals who have never played the piano before, as long as they have the physical ability to do so (that they don't have severe arthritis or other conditions that affect their fingers), then they will be able to take part in activity that offers many benefits.
Getting the brain exercise.
Whether the elderly individual has previous experience with music or not, reading sheet music and playing requires thought and precision. A more experienced piano player will use the conscious portions of their brain less than somebody who has never played the instrument before. Either way, the individual who is playing the piano will be using their brain more and this can help reduce memory loss and other mental health issues.
The more exercise at the brain gets, the better it is for the individual.
Music can be soothing.
Research is shown that individuals who listen to classical music have a tendency to become more relaxed than one who listens to other styles of music. Playing the piano can have the same soothing effect for the individual.
Even if the elderly individual is not skilled at playing the piano, the moment that they begin to press keys, they are creating music. That can have a soothing and calming effect for the individual.
It can be fun and exciting for the new piano player.
Many people who don't have any musical experience in their life will state that they always wanted to learn an instrument. Most instruments tend to be impractical for elderly individuals, especially those who have significant health problems. However, playing the piano is one that many people can do, regardless of their physical limitations.
Even an elderly patient who had a stroke who has the use of only one side of the body can still play the piano. If the elderly care provider also plays, then they can do duets with the caregiver playing an accompaniment to the patient's solo or lead. This can also provide companionship and a sense of pride and accomplishment.
For more information about elderly care in Manhattan, NY and the surrounding areas, contact Best Senior Home Care at 917-880-9373. Serving Bayside, Flushing, Fresh Meadows, Whitestone, Forest Hills, Little Neck, Auburndale, Queens Village, Bellerose, Manhattan and surrounding communities.