When your aging loved one lives far away and you are organizing the caregiving, it can be really difficult to juggle everything. You wish you could see your mom more often, but your work and family schedule just don't allow for frequent visits, and she is in no shape to make the long journey anymore.
Keeping in touch can be your lifeline to your mom. Technology is your friend when it comes to communication, so use it for all it's worth! The phone is kind of the tried and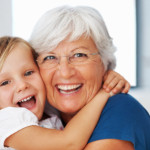 tested traditional way of communicating over a long distance, but try out some of these other methods:
Live calls that include both audio and video. These can be done through the computer and allow you and your mom to see each other. If she isn't tech savvy enough to set it up on her end, make sure she has the proper equipment – a computer or handheld device capable of video – and then set it up with her caregiver or another relative to put her onto the call when you're ready.
The old snail mail. You wouldn't believe how excited she would be to get a card or letter from you in the mail. Remember this type of communication is more familiar to her than all the new fancy tech stuff. With the letter, she can read it over and over and it can bring her joy and comfort. Include some pictures, photos, etc. Get your children to include something in there as well. Grandma will be so surprised to get a big envelope full of everyone's artwork and poems and photos and well wishes.
Phone calls are still great. She loves hearing your voice and you can really connect with her over the phone. You may detect some underlying tones in her voice that tell you all is not well. Or maybe her voice will reassure you that all is well and she is fine.
Even if she doesn't reply to all your letters, or you find that you are the one who is initiating all the phone calls or all the communication, keep it up anyway. She may be tired and thankful that you are keeping up this area of your relationship. This is something you can do for your mom and isn't usually a very difficult thing to do. If you establish a pattern, it will make it all the easier.
For example, phone her Tuesday, Thursday and Sunday. Send her a letter every Saturday. Send her a big envelope full of notes and pictures from the kids the last Sunday of each month. Video call her (if that's possible) on one of the phone call days instead of the phone call.
For more information about home care services in Flushing, NY and the surrounding areas, contact Best Senior Home Care at 917-880-9373. Serving Bayside, Flushing, Fresh Meadows, Whitestone, Forest Hills, Little Neck, Auburndale, Queens Village, Bellerose, Manhattan and surrounding communities.