November 8th is National Ample Time Day. This day is set apart from the rest of the year to recognize how important time management is. It's essential to take ample time in a person's life to know what your priorities are and get as much done as you can while still enjoying all the joy life has to offer.
This is especially good advice to family caregivers and those who work as home care providers. If you are a family caregiver, you probably already have a really good respect for how precious time really is. After all, you are dividing your time between a job or career, your family; your elderly loved one, your social life, and more.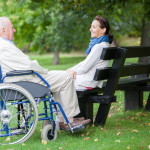 Sometimes you may not even be getting enough time for a decent night's sleep. If anyone can recognize the importance of time management it would be you, the family caregiver.
Tips for getting more usable time out of your day
Know what your priorities are for each day, write them all down and plan out when and how they will be done. Your own health is on that map. When we realize the things that are the most important, it makes our time use decisions a lot easier to make.
Use both daily and weekly to-do lists. These give you a big picture of what needs to happen now and what is coming up in the next few days. Chores and tasks can be on these lists, but always the top priorities are written on the top of the list. It can be a common mistake to underestimate the amount of time to allot to each item, so add some time buffers to your schedule.
Simplify. No time to dust? Get rid of the knick-knacks. They're not useful anyway. A clean bare shelf looks better than a dusty cluttered one. Do spring cleaning everywhere in the home, including every drawer and shelf. De-clutter your schedule as well. Do you have too many items on your to-do list? Prioritize again and get rid of the ones at the bottom of the list. Say no to extra things if there just isn't time for them. But make sure your priorities are still the most important things in your life.
Take the time to take care of yourself. Otherwise, you will find yourself tired and out of energy. This is not a good use of time because being sick wastes time. You need to stay energized and healthy. If this means hiring a home care provider part time to help you look after your elderly loved one, then it's time to do it.
For more information about caregiver services in Forest Hills, NY and the surrounding areas, contact Best Senior Home Care at 917-880-9373. Serving Bayside, Flushing, Fresh Meadows, Whitestone, Forest Hills, Little Neck, Auburndale, Queens Village, Bellerose, Manhattan and surrounding communities.