You've realized for some time that your mother was going to need some extra support in her home at some point. Well, that time has come and you have decided that you're going to be the one providing home care for her. If you are going to be successful as a primary caregiver to your aging parent, then there are some tips that you should take to heart while offering this valuable and vital level of care.
Be Accessible
This doesn't mean that you should give up your life to take care of your mother, but you will need to be accessible to her as much as she might need. If she has a question or is having trouble with something and tries to contact you, make sure that you call her back in a timely manner if you're not able to answer the phone at the time she calls.
Keep Up with Her Doctor's Appointments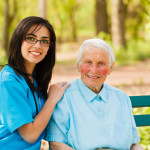 When you provide home care to your mother or your father, if that's the case, you will need to be organized. Elderly individuals tend to have a number of different doctors looking out for their health and well-being, and this generally means that there will be more appointments that have to be met.
If you begin to miss appointments or can't get her to them, then you're not providing the best care that you can, or that she deserves.
Don't Interfere
Your mother is still an independent person and doesn't need you to do everything for her, especially if she's fully capable of still doing a number of things. If your mother likes to cook and is still able to get around the kitchen without endangering herself or others, then let her.
You may feel as though you're doing her a favor by taking charge and doing everything for her, but in reality you may actually be causing her more harm and that could lead to depression.
Have a Schedule
Make sure that your mother knows when she should expect you to come around. If you're going to show up at 5pm every day, don't show up at 3pm unless you let her know. Popping in unannounced may be fine when you're just visiting, but when you're providing care for her, she may take that as a sign you don't trust her.
When you are providing home care for a loved one, it's important to remember that he or she is still an independent person. Don't take your responsibility too lightly and don't push too hard. If you don't believe that you'll be able to provide the ideal level of care for him or her, you should consider the services of an in-home care provider instead.
For more information about caregiver services in Fresh Meadows, NY and the surrounding areas, contact Best Senior Home Care at 917-880-9373. Serving Bayside, Flushing, Fresh Meadows, Whitestone, Forest Hills, Little Neck, Auburndale, Queens Village, Bellerose, Manhattan and surrounding communities.