It is an agonizing decision. Your beloved parent who took care of you now needs care of his own. The son or daughter in you wants to just take charge and take care of your dad all by yourself. Yet you have a family of your own to take care of as well as a job. How will you do it? You don't feel qualified; how will you know what to do when difficult situations arise?
You cringe at the thought of admitting him to a long-term care facility. Those places seem so impersonal; you're not sure you could handle doing that. You don't think dad would have chosen this option, if he had talked about it before the onset of the disease. But that didn't happen…now you are faced with this very difficult decision. Will a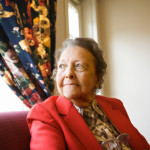 long-term care facility really take care of him the same way you would?
Don't despair yet; there are still other choices. Consider home care for the elderly. This is the option that allows your parent to stay in his own home while someone comes in to care for him. A trained professional experienced with Alzheimer's disease. There are definitely some advantages to choosing the elderly home care option.
Benefits of elderly home care
He will feel more secure being in his own home in familiar surroundings
He will get one on one care, just as he would if you were able to care for him full-time
He will be cared for by an expert who has experience with Alzheimer's disease
His care and attention will be specifically designed for him and his unique needs
Studies show elders have better health and live happier lives at home than in a facility or other care center.
You can spend quality time with him outside of the caregiver role
The costs are significantly less than long term care in a facility
Your dad's friends and neighbors whom he has known for years live close by and can continue to come and visit him.
You can still participate in his caregiving. You can come into his home as you like and assist or just visit.
If you need help deciding what will work best for your dad and you speak to someone and get as much information as possible. Many families these days are choosing home care for the elderly simply because it's a very feasible option and very flexible.
For more information about elder care services in Fresh Meadows, NY and the surrounding areas, contact Best Senior Home Care at 917-880-9373. Serving Bayside, Flushing, Fresh Meadows, Whitestone, Forest Hills, Little Neck, Auburndale, Queens Village, Bellerose, Manhattan and surrounding communities.