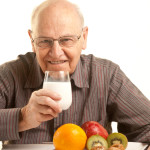 During the last real week of summer, there is a really good way to celebrate. August 31st is National Eat Outside Day. Weather can be a little unpredictable to say the least, so hopefully this day is warm and not windy so your elderly loved one can enjoy joining the family for a little fresh air and a nice meal eaten outside!
You have some almost limitless options for eating outside. Anything from just taking your dinner plate outdoors and sitting on your deck or veranda in a comfy chair and enjoying the fresh air while eating to planning a picnic lunch and going to a park to eat. You could even visit a restaurant with an outside patio and enjoy eating outside while visiting with friends.
Eating can be a very social time that has the potential to bring people closer together. When you take the opportunity to eat with family members even though everyone seems to have a busy life, it is mentally and emotionally calming and satisfying. The elderly loved one who eats by themselves much of the time can feel very lonely and even isolated. They are not as happy and in general their health isn't as good either, when they are lonely.
Is your elderly loved one lonely? Do they lack good nutrition because they are becoming less interested in food and in eating alone? These are problems that can grow into a serious situation. One way to make sure your senior is eating well is to arrange for them to have company at mealtime.
Patricia had a situation like this with Justine, her mother-in-law. Justine's health had begun to deteriorate lately and the doctor told Patricia it was because Justine had been neglecting her diet and wasn't eating enough calories. The food she was eating was not good home-cooked food but rather she was subsisting on crackers and canned pasta which she didn't have to prepare.
Patricia was able to contact family members that lived close to Justine and arrange for two of them to take turns going to Justine's and helping her fix a meal, eating with her for the company, and that took care of 2 days out of 7. For the other 5 days, Patricia convinced her two sisters-in-law to pitch in together for the cost of a caregiver from elderly home care to come 3 days a week and help Justine with a home-cooked meal. Patricia and her family covered the remaining 2 days. Within just 2 weeks Patricia noticed a marked improvement in Justine's health and demeanor. Other family members were also surprised and elated.
It's understandable that all families are different and there isn't always the option for family members to help with caregiving. Elderly home care is there for you and your family in your time of need.
Enjoy National Eat Outside Day with your family and elderly loved one, and consider hiring elder care services to help them with preparing quality meals on a weekly basis. Nutrition is such a vital part of a senior's health and a caregiver can play a pivotal role in ensuring your loved one's diet is well-balanced and beneficial.
For more information about elder care in Whitestone, NY and the surrounding areas, contact Best Senior Home Care at 917-880-9373. Serving Bayside, Flushing, Fresh Meadows, Whitestone, Forest Hills, Little Neck, Auburndale, Queens Village, Bellerose, Manhattan and surrounding communities.