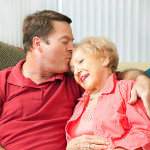 As diverse as one family is to another, there are usually many different reasons why some members take on the role of being a caregiver for an elderly loved one. Some of the reasons are noble, some are out of love, and still others have more to do with finances or other preconceived notions about home care providers or the services that they offer.
Below are five of the common reasons why families take on the role of being a caregiver.
They believe that elderly care is too expensive. One of the most common myths about home care is that it is too expensive for most families. In truth, it costs a fraction of what nursing home care costs, and far less than assisted living. In fact, it is the most affordable home care option for seniors dealing with any number of health issues.
They believe the myths about home care services. There are plenty of myths that are floating around about home care services and it's easy to buy into some or all of them. When families don't take the time to get to know the truth about home care, they may believe in these myths and deceptions. For example, theft or crimes committed by home care providers occurs so infrequently, but the media makes it seem as though it's a major dilemma.
They think they can do enough on their own. When a family member thinks that he or she can do the same type of work as a professional home care provider, they simply don't understand what it entails. They usually discover within a couple of weeks or months that it's too much for them to handle.
They worry about their loved one's safety. When you worry about your loved one's safety, sometimes you believe that you're the only one who can ensure it for them.
They don't want their loved one to think they don't care about them. Would you think that your elderly loved one would believe that you don't care about him or her because you hired someone else to take care of them? Many people believe this and it's a driving factor in choosing to be their caregiver in the first place.
If you find that some of the reasons match with any of your own for planning on being a caregiver to your elderly loved one, consider looking into home care services. You'll likely find that it would offer the best, most experienced care that is both affordable and safe, allowing you the peace of mind to simply enjoy your time with your loved one.
For more information about senior care services in Bayside, NY and the surrounding areas, contact Best Senior Home Care at 917-880-9373. Serving Bayside, Flushing, Fresh Meadows, Whitestone, Forest Hills, Little Neck, Auburndale, Queens Village, Bellerose, Manhattan and surrounding communities.