Senior

Care in Whitestone, NY – Rapid Life Changes and Lost Independence can be Detrimental to Senior Self-Worth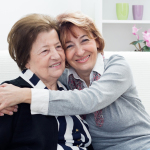 If your parents are now seniors, then chances are they are dealing with new and different challenges, both physical and mental. The physical difficulties have a direct impact on the mental aspect, and it is important to consider what your senior is thinking and feeling about their changing life situation.
Self-esteem has a tendency to diminish for seniors, especially as they transition into a less-independent lifestyle. Here are 3 ways you can help your parent to regain some of their lost feeling of self-worth:
Spend time with them:

One of the greatest

gifts

you can give to your senior parent to make them feel important is spending time with them. It shows that you care a

n

d value them regardless of their age. Take some time out of your busy schedule and go visit them. Show them that it makes you feel satisfied when you share your time with them. Do something that they enjoy, and make every visit worth it so that they look forward to the next one. In short, create time for them, and make them know that you are doing it not as an obligation, but because you want to.

Make sure that they are comfortable:

When your parent becomes a senior, there may be things they can no longer do for themselves that used to be part of their routine. Have an honest conversation about what has become difficult for them to do on their own and make adjustments to their home as much as possible. Move often-used items down from high shelves in the kitchen, add grab bars and non-slip pads in the shower, etc. If you are not available to check in with them on a regular basis, hiring home care services is an excellent way to ensure your loved one is cared for and safe while still remaining in their home.
Remind them of what they did right:

 If you want to boost your senior parent's self-worth, remind them of the things that they did right, in life choices, and in bringing you up. It is important for them to know that they made a huge impact on someone's life. It will help diminish the feeling of worthlessness that sometimes creeps in for seniors. 
Basically, you need to show them love, respect and appreciation. Every parent wants to feel needed and loved, regardless of age. Do your best to assure them over and over that you will always be there for them. It's also reassuring to them that their needs are met. If you need help with that, you can hire a senior care service for cooking, personal grooming, light housecleaning and driving for errands.
For more information about senior care in Whitestone, NY and the surrounding areas, contact Best Senior Home Care at 917-880-9373. Serving Bayside, Flushing, Fresh Meadows, Whitestone, Forest Hills, Little Neck, Auburndale, Queens Village, Bellerose, Manhattan and surrounding communities.