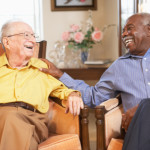 With May being Older Americans Month, it's a good time to recognize the contributions made by older Americans. It's also a good time to study and implement more ways for them to stay healthy, active and safe. In 2014 the theme is Safe Today. Healthy Tomorrow.
Elderly adults have a higher incidence of accidental injuries than other age groups. By staying organized in their homes and taking control of their safety, older Americans can enjoy longer lives filled with good health and a reduced incidence of injury and disease.
How can home care help?
Providing a caregiver to help the senior move safely in their own home
Helping with personal care such as bathing and dressing or other things the elderly person struggles with
Providing transportation to and from doctor visits
Making sure there are no tripping hazards lying on the floor
Helping with getting into and out of chairs or the bed
Encouraging the elder to do their daily exercises
Taking your loved one to social activities and community events
How can you help?
Make sure there are no falling hazards in your loved one's home. Look for cords looped around and sticking out or lying across a walk way. Remove them.
Remove scatter mats and throw rugs. Only use the type of rugs that are attached and can't move.
Make sure hallways and entrances are well lit. There should be night lights between the bedroom and the bathroom for night use.
Encourage activity. Make sure your senior loved one is having regular physical activity as well as mental and social.
Plan to do something fun during May to celebrate your elderly parent or family member. Here are a few ideas you can use, or make up your own!
Plan a family get-together including all ages of family members who can come. Choose a location that's big enough to accommodate everyone, but has a quiet corner your loved one can relax in if they need to rest a bit.
Put together a slide show of pictures and events from your elder's life and then put it to a narrative. Either you or your loved one can do the talking; record it and put it with the slides. Invite over a small group of family or friends to view the slide s

how. Have some treats after.
Take your loved one to an old-time movie and enjoy some popcorn or other snack.
If your loved one has a favorite activity they can no longer participate in, for example swimming or hockey, take them to watch an event where other people are competing.
Bring in a special friend your loved one hasn't seen in a while to surprise them with a visit.
For more information about home care in Queens Flushing, NY and the surrounding areas, contact Best Senior Home Care at 917-880-9373. Serving Bayside, Flushing, Fresh Meadows, Whitestone, Forest Hills, Little Neck, Auburndale, Queens Village, Bellerose, Manhattan and surrounding communities.