As an in-home care provider, you may be taking care of an elderly senior who suffers from Alzheimer's or dementia. Someone afflicted with one of these brain disorders is very easily distracted by other noises. Extraneous noise can be a huge source of stress for the elderly adult.
Traffic noise has also been found to increase the risk of stroke. Danish studies have shown adults age 65 and over have an increased risk of stroke when living near busy intersections. The risk increased by 27% for every 10-decibel increase in noise level. Strange enough, but traffic noise has been linked to cardiovascular disease.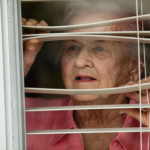 Noise is a source of stress for most people. It can make it hard to concentrate; it can disturb sleep and can result in high blood pressure and increased heart rate. Older people are even more irritated by noise and because their sleep is already somewhat fragmented, traffic noise throughout the night becomes a big source of stress.
What can be done to reduce traffic noise?
The home can be insulated with noise barrier insulation.
The senior can wear protective hearing devices at night, like special ear plugs made especially for night wear. They are still able to let through the shrill noise of a smoke detector but will muffle traffic sounds. It's best to wear night ear plugs only if there's another adult in the home at night to help with fire evacuation if necessary.
Other stressors which affect elderly adults are:
Lack of mobility. When their joints can't hold their body weight anymore to get into and out of a chair, it can be frustrating. To alleviate this problem, try raised toilet seats, chairs that have a lever to move them up and forward to bring the occupant to an almost standing position, and other technology made for the aging senior.
Loneliness. The problem of loneliness among aging seniors is pervasive. There may not be any family living close by, or there may not be any friends that come to visit. Try taking your aging loved one out of the house to meet people. To a senior's activity or to the public library, or to some kind of community event.
Illness. Many aging adults develop illnesses like diabetes, arthritis, etc. Make sure they are following the doctor's entire treatment plan, and try to help them be as comfortable as possible. Other than that, just be happy and cheerful and it will brighten up their day!
For more information about home care services in Bayside, NY and the surrounding areas, contact Best Senior Home Care at 917-880-9373. Serving Bayside, Flushing, Fresh Meadows, Whitestone, Forest Hills, Little Neck, Auburndale, Queens Village, Bellerose, Manhattan and surrounding communities.