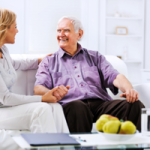 Moving is one of the five major stressors in a person's lifetime. Death of a loved one, changing careers, getting married are all others on that list. It doesn't matter whether your loved one is moving because they want to or because they have no other choice, it's still going to be a tough moment for them. There are some steps that you want to consider, especially if they are moving for elderly care.
Understand the difficulty that your loved one may have with moving at this time. The longer that they have lived in their current home, the more emotionally attached they will be to it. That means that they could have a significant amount of trouble letting go and saying goodbye. Avoid platitudes like 'You'll be okay,' or 'You'll love this new place.' It doesn't help.
Allow them the time that they need to grieve because that's just what they are doing: grieving.
Next, determine what is needed in their new location. If they are going to need certain furniture items, like a bed and dresser, then that's an easy consideration. If they are not going to require much of anything at their new location, they might not be willing to sell their possessions right now. Be willing to put them in storage for the time being. They can make a decision later on what to do with everything.
Be sure to have the right level of insurance in the new place. When you move, one thing that you may not consider, especially when moving from a house to an apartment, assisted living, or into a loved one's home is insurance. Homeowners insurance is a requirement if your loved one had a mortgage, but renter's insurance might not be something that they even think about. It's a good idea to get the right level of coverage.
Finally, if your loved one is planning to move into your home or another family member's house in order to get support, that doesn't mean that you can't consider hiring elderly care providers. You may think that you can do a great job providing the support and care that your loved one needs, but if you work full-time or have other responsibilities, it could limit the care that you offer to your loved one.
Elderly care is important to consider when your loved one is moving because she knows she can't stay in her home alone any longer. However, there are plenty of other elderly care options to consider, too, such as live in care.
For more information about elderly care in Fresh Meadows, NY and the surrounding areas, contact Best Senior Home Care at 917-880-9373. Serving Bayside, Flushing, Fresh Meadows, Whitestone, Forest Hills, Little Neck, Auburndale, Queens Village, Bellerose, Manhattan and surrounding communities.