People providing senior care services have a lot on their mind as they care for the needs of an elderly adult. They have their own family responsibilities to juggle as well, and sometimes it may just seem daunting.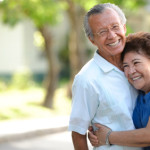 Steps to take to improve your mood
Keep a positive attitude. Even though caregiving may be stressful and time-consuming, a person still has the choice on how they will approach the day. It's true we can't control other people, nor can we control many of the circumstances that occur around us. But the one thing we are always in control of is our attitude.
Put on a happy face. Find random reasons to be happy. Look at beautiful flowers; listen to joyful music. Find something that makes you want to smile. Or be happy for no reason at all. Just practice being happy for the fun of it. You always decide how happy you will be; no one else can control your happiness.
Take deep breaths. Even though breathing is something we don't normally think consciously about, when we concentrate on it we can actually relax our body and our mind. It's amazing. Normally most people breathe very shallow. Deep breathing is healthy and gives us a big fresh supply of oxygen, just what we need to perk up and feel happy and energetic.
Focus on giving love. That includes loving yourself. So much of the world is focused on getting. What can I get? Who can give me love? But when we switch it around and focus on giving love to everyone in your life, you will change your life. You will be amazed at what can happen when you give love freely and abundantly.
Face your fears. Sometimes we run in the other direction; other times we hide. But facing fear head on can actually erase anxiety. We no longer have to worry about when we will cross that bridge or carry that burden. Doing it right now and finding a way through it will bring immense relief.
Find peace. No matter how chaotic the world around you is, bask yourself in those things that bring you peace. Alone time is essential. If you can't leave the house because of obligations, find a place within the house that you can spend a few quiet moments in meditation. Experts say that even 15 minutes a day in a peaceful place can work wonders!
For more information about senior care services in Bayside, NY and the surrounding areas, contact Best Senior Home Care at 917-880-9373. Serving Bayside, Flushing, Fresh Meadows, Whitestone, Forest Hills, Little Neck, Auburndale, Queens Village, Bellerose, Manhattan and surrounding communities.