When it comes to quality senior care, keeping the individual healthy, flexible, and in shape is one of the best things that we can do. Doctors will often recommend a number of activities for senior health care services to do with their senior patients, but yoga is one of the most effective and safest for a number of reasons.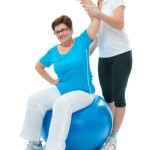 First, yoga is not a physically exertive activity. In other words, the individual won't be expected to lift weights, do calisthenics, or other exertive activities. It is more of a flexibility regimen that will allow them to move their body and get blood flowing in a healthier manner.
Second, as yoga is not a harsh physical activity, it is safe for people of all ages to participate in. This means that seniors of any age, and of almost any physical conditioning, would be able to take part in it. Even individuals who may need the assistance of a walker or cane can take part in yoga exercises.
Third, it's a great social activity. Of course, if senior care is conducted at home and the senior care service professional provides this exercise activity within the comfort of the home, then there won't be an opportunity to socialize with other seniors. So, if you decide that yoga is a positive step for your elderly loved one, make sure that, assuming they are able and can attend a session outside of the home, that they are given that opportunity.
Senior care requires us to sometimes think outside the box. While yoga has become a popular and healthy activity for millions of people around the world, we often don't consider it for senior care for the simple fact that we think of seniors as not being able to handle the kind of rigorous activities that we might think yoga to be.
However, there are all different levels of yoga that can accommodate the beginner to the advanced, from the flexible to the relatively limited individual. This is why it is a great activity for seniors to take part in. If you are looking to provide the highest level of senior care for your loved one, then look into yoga.
First, find out if yoga classes are available through the local senior centers or services in town. If so, contact them and find out what it involves. Once you have the right information, discuss it with your loved one and the senior care service provider. It could end up being a great activity for you to take part in as well.
For more information about senior care services in Fresh Meadows, NY and the surrounding areas, contact Best Senior Home Care at 917-880-9373. Serving Bayside, Flushing, Fresh Meadows, Whitestone, Forest Hills, Little Neck, Auburndale, Queens Village, Bellerose, Manhattan and surrounding communities.