Have you been considering hiring a senior care worker for a loved one? If so, then you will likely come across a number of potential options to choose from. You can hire through a senior care services organization or agency. This is a place where you would let them know what your loved one required and they would match up one of their employees.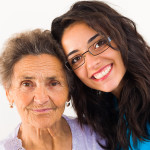 This is convenient when you are not quite sure just what level of care could be required. It can also protect your loved one because most agencies will conduct background checks on the people that they hire to ensure that they have the experience necessary to do this type of work and that they have a clean background.
You could also decide to try and save money by hiring an independent contractor. This is someone who you would find through your own efforts, whether placing an ad in a classified section of the paper or online, or responding to an ad you saw in one of these places. When you do this, it's your responsibility to make sure that you know who you're hiring.
You're going to have to check out the references that they provide, contact his or her previous employers, and potentially conduct a criminal background check. This is because you're going to be inviting this person into your loved one's home to provide care for them. You want to make sure that the person you hire is honest, hardworking, and experienced.
While you may save some money by choosing this option, many of the more experienced senior care providers are going to cost you closer to what agencies charge. For families who are concerned about the cost of senior care services, this could lead them to consider hiring an undocumented worker.
Many undocumented workers will generally work for a lot less than what other providers will charge. This could be tempting if you're on a tight budget, but there are some serious consequences involved in doing so. Most importantly, it is illegal and you could get yourself and your loved one in a lot of trouble with the authorities, and the IRS.
In addition, if something goes wrong, if there is an emergency, would your loved one's insurance cover any potential medical related expenses if they discover that an undocumented worker was caring for him or her? What about state resources? They might be revoked, if your loved one relies on them.
When it comes to senior care, you want the best for your loved one and the best is hiring someone who is legal to work in the United States, has experience, and has a clean background. Contact senior health care services in your area and you're sure to find the right provider that you and your loved one can afford.
For more information about senior care in Little Neck, NY and the surrounding areas, contact Best Senior Home Care at 917-880-9373. Serving Bayside, Flushing, Fresh Meadows, Whitestone, Forest Hills, Little Neck, Auburndale, Queens Village, Bellerose, Manhattan and surrounding communities.