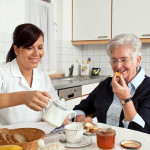 Whether your senior parent already eats eggs or not, they can benefit from knowing exactly why they're so good for their health and how to incorporate more of them into their diet. When caregiving for an elderly loved one, you always want what's best for them. Having a healthy, improved meal plan is one of the best ways to help your aging parent live longer and happier as much as they can. Even with other physical or mental challenges, making positive changes in their daily life such as healthier meals will make a noticeable difference.
What Should Seniors Eat for Breakfast?
It's been shown that seniors who have fish and eggs for their morning meal with some greens as well are much better able to stay alert during the day. They will also experience less high blood sugar spikes compared to a senior who only eats a breakfast high in carbs. At most fast-food places and sponsored events, the breakfast fare is a tall stack of white flour pancakes slathered in butter and sugary syrup. Sometimes if there are eggs served, the average senior person only has one after their pancakes.
A much healthier combination for breakfast is eggs with fish, instead of eggs with bread or other flour products such as pancakes. If your elderly parent wants to stay away from getting gas and stomach cramps from their breakfast, you should pair their protein with green vegetables and healthy fats, instead of with carbohydrates.
Here are some breakfast combination ideas:
Fish with a side of scrambled eggs
Seafood omelette

A piece of fish, hard-

boiled egg and green salad with nuts

Slices of tempeh or salmon in a salad with scrambled eggs
Fishcake with a poached egg

Sliced, hard-

boiled egg on green salad
There are many different ways that you can serve eggs to your senior parent that will encourage their body's natural functions to work at their best. Whether they want eggs at breakfast or not, having this super-food at any meal is a great idea. There are so many different egg recipes from different cultures and countries that you can use the internet to find and your aging parent will never get bored of eating them!
Eggs for Heart Health
Having healthy fats and protein is essential for the human heart, particularly for an aging one. Having eggs every day will support your elderly parent's heart functions and normal blood flow. Talk to senior care services about a caregiver who can plan meals involving great nutrition. Having some help in the kitchen will make it a lot easier for your mother or father to eat healthily and remember to have some eggs.
For more information about senior care in Queens Village, NY and the surrounding areas, contact Best Senior Home Care at 917-880-9373. Serving Bayside, Flushing, Fresh Meadows, Whitestone, Forest Hills, Little Neck, Auburndale, Queens Village, Bellerose, Manhattan and surrounding communities.