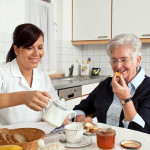 One of the worries that seniors face is the thought of losing their independence due to their health. For instance, reflexes become less sharp and sometimes vision dims. Other problems could also exist,  like not being able to prepare meals because of unsteadiness or difficulty with the knobs or handles on appliances. Problems like these can lead to seniors losing independence which can cause feelings of depression, frustration or the feeling of being overwhelmed. And your senior may not want to "bother" you with requests, so sometimes he or she would rather do without than become a perceived burden on family members.
Senior care can help with these issues. A companion can be hired to drive your senior to appointments. It would be on your senior's schedule and done when he or she wants or needs it done. A companion can take your senior to appointments, lunches with friends or other social activities your loved one makes plans for. Your senior doesn't have to rely on you for transportation or take public transportation which can be unreliable and leave him or her stranded. The companion will be the driver and even stay through appointments if necessary. Your senior no longer has to be concerned about having you leave work early to do the driving.
If cooking is a problem, a senior care companion can help with that also. Pleasant conversation then can be exchanged over meal preparation and or the sharing of lunch. Whether the caregiver is preparing the whole meal or assisting your loved one, healthy nutritious meals will be eaten. The caregiver can also prepare meals ahead of time and freeze them in single portion servings. This way if your elderly loved one wants a hot meal, all he or she has to do is reheat it when wanted.
A caregiver can do light housekeeping duties as well. Laundry, changing linens and hanging up fresh towels, running the sweeper, even sweeping and mopping floors will all help your senior to keep on living independently. Plus, the companionship and conversation can make the day more interesting too. All of this will keep your loved one healthier both mentally and physically.
Senior care is a perfect solution to keep your aging senior at home and independent. The time you spend with your loved one can then be more about the enjoying of company than worrying if they are eating properly or the housework is being done. It's a win-win situation where your senior gets to keep much-valued independence, and you have peace of mind!
For more information about senior care in Whitestone, NY and the surrounding areas, contact Best Senior Home Care at 917-880-9373. Serving Bayside, Flushing, Fresh Meadows, Whitestone, Forest Hills, Little Neck, Auburndale, Queens Village, Bellerose, Manhattan and surrounding communities.