Planning a Family Dinner through Senior Care in Flushing, NY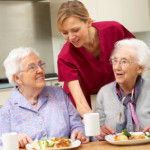 There are so many things that could be going on in your life that it can be difficult (or seemingly impossible) to sit down and have a nice meal with your family. With so many things going on, it is far too easy to say that we will do certain things "soon." When you have a loved one who relies on senior care, it is important to remember them when it comes to dinnertime, especially if they live close enough where you can stop by and visit them every once in a while.
September 27 is Family Day – A Day to Eat Dinner with Your Kids. As an adult who may have an elderly parent who require some type of senior home services, you may have encouraged him or her to hire this level of senior care because you either didn't live close enough to provide the proper level of support or you are too busy to commit to that level of care.
Just because your mother or father agreed to hire a senior care provider doesn't mean that you can't make an appearance every once in a while. To be honest, you probably do stop by whenever you can. However, are those visits really productive? Are you spending quality time with your elderly loved one? More importantly, are they being given the opportunity to spend quality time with you and other people in their family?
Sitting down to dinner can be a great way to talk about various things that are going on in people's lives. When we are at dinner, we are all sitting together and for the most part not watching TV, texting on our cell phones, or talking to other people on our phones.
Because of this close intimacy that at full meal offers, it can offer just about any family an incredible opportunity to share something special, especially with their elderly loved ones.
Even if you live several hours away from your elderly mother or father, consider planning a family dinner with them as soon as possible. Life gets hectic and time slips by before you realize it. As we enter into autumn, Thanksgiving and the rest of the end of the year holidays are fast approaching. While that may indicate that your elderly loved one will be spending time with you then, it may not be as intimate setting as a simple family dinner.
This is an idea for senior care that you may want to consider looking into.
For more information about senior care in Flushing, NY and the surrounding areas, contact Best Senior Home Care at 917-880-9373. Serving Bayside, Flushing, Fresh Meadows, Whitestone, Forest Hills, Little Neck, Auburndale, Queens Village, Bellerose, Manhattan and surrounding communities.