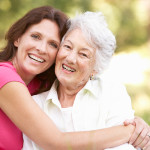 Traveling on a vacation as a caregiver with your elderly loved one isn't impossible and can be enjoyable if preparations are taken into consideration. There are challenges but the benefits of spending time with your loved one in a vacation environment outweigh any inconveniences. So what tips do you need to make sure everything goes smoothly?
The most important thing to do first is to get your loved one's doctor's approval for them to travel. You want to talk about any possible health concerns and chronic conditions, get a list of medications, and go over any limitations he or she may have. Also remember to refill any prescriptions that may be in danger of running out before returning.
Next, think about your mode of travel. Are you going by car? Or are you renting a vehicle or going by plane? If you're renting a vehicle, a minivan may be more comfortable and more easily accessible. If you are taking your own car, make sure that any necessary equipment; such as wheelchairs or walkers, will fit in your car. If you're going by plane, make sure to request a seat in the rows which are designated for disabled passengers. If your loved one has difficulty walking, reserve a wheelchair at the terminal so he or she doesn't have to walk through the airport to get to the gate. An airport employee will be assigned to you and your loved one to make sure you get from place to place on time for your plane.
When you are making reservations for the chosen hotel, request a room on the first floor for easy access. If possible, if there aren't any handicap accessible showers, take along a portable shower bench for your loved one to be safer in the shower.
When traveling with your elderly loved one, make sure to pack essentials and have them close at hand. Such items as water, medications, snacks, phone numbers, a travel pillow and proper ID are all important. Remember, too, to pack support stockings if your senior is going to be sitting for any length of time to help to prevent blood clots.
When arriving at your destination, keep things simple. Try to keep to your regular mealtime schedule, medication schedule and keep nap times as consistent as possible. This is especially important if your loved one suffers from dementia or Alzheimer's. A loved one with Alzheimer's doesn't travel well in late evening or after the sun goes down because of Sundowner's syndrome. See the sights then when it's the best time of day for your loved one so as not to cause him or her undue stress. If you're as consistent as possible, it will lower the risk of your loved one becoming agitated.
Let your senior know what the day is going to bring without overwhelming him or her with too much information. Ask if there is something your loved one would like to see or do while on vacation too. Plan ahead and make sure any special needs are taken into consideration.
If the vacation is planned thoroughly, taking your senior with you can be an enjoyable experience for you even in the role of caregiver. It will give the both of you memories to share on those long winter days when you can't get out, and isn't that worth a little extra effort?
For more information about caregivers in Flushing, NY and the surrounding areas, contact Best Senior Home Care at 917-880-9373. Serving Bayside, Flushing, Fresh Meadows, Whitestone, Forest Hills, Little Neck, Auburndale, Queens Village, Bellerose, Manhattan and surrounding communities.