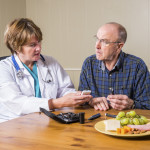 Life for a diabetic is an ongoing, delicate balance of monitoring dietary requirements, tracking blood sugar levels, managing medications, making sure to exercise, etc. And diabetes doesn't take a break on weekends or holidays! It's no wonder many Manhattan area seniors are struggling with the challenges of diabetes care face the risk of burnout.
Best Senior Home Care of the Manhattan area is here to help diabetics and those who care for them stay on top of the disease and minimize stress. Try keeping these tips in mind when feeling overwhelmed by diabetes:
Remember, no one's perfect. Good diabetes care does not mean having to be perfect with care every single day. Some days are simply going to go better than others and it is important to be forgiving for an occasional glucose fluctuation and then learn from mistakes.
Identify care barriers.Barriers to diabetic care management could be:

Requiring more information/education on proper diabetic care
Avoiding situations that could disrupt a care schedule
Excuses to overcome regarding getting more exercise
Eating patterns that may be driven more by emotions than hunger
Depression or other emotional concerns
Stay positive. Throughout everything, a positive outlook can go a very long way. Instead of thinking, "I'll never be able to manage my diabetes—I might as well plan on having health problems," try thinking, "I didn't pay enough attention to my portion sizes at dinner; that is why my blood sugar is high. I need to think ahead and keep portion sizes in line with my meal plan or cover with extra insulin if I eat more than I intend."
Accept assistance.Family members, friends and coworkers typically provide a great shoulder to lean on. Just let them know what is helpful and what to watch for. In home care services are also an excellent resource for diabetic care support and encouragement.
For further assistance with diabetes care, call on Manhattan's best senior care company, Best Senior Home Care. Our experienced, dedicated caregivers are fully trained and able to alleviate some of the hassle of diabetes management through our in home care services, such as meal planning and preparation, light housekeeping, transportation to doctors' appointments and to pick up medications, and much more. You can reach us any time at 917-880-9373 or through our online contact form. Let us help improve the quality of life for a Manhattan area senior you love!