Bayside Senior Home Care and Home Health Aid You Can Trust
Beautiful Bayside, NY – home to so many American legends, like Charlie Chaplin, Frank Costello, Rudolph Valentino, and the many wonderful seniors who are part of the Best Senior Home Care family! And the expert caregivers at our top Bayside senior home care company love accompanying and providing transportation to allow those seniors to continue to live life to the fullest. Our Bayside home health aid provides the care and attention your loved ones need and enjoy as they live out their golden years.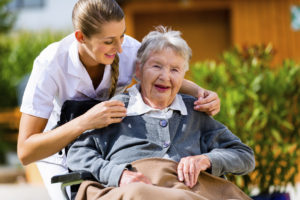 A typical outing in Bayside for our senior clients can include anything from a history-enriching visit to Fort Totten, Bayside's famous Civil War fortress, to some early morning fishing or a boat cruise at Bayside Marina, to a simple, relaxing lunch out on the town. At Best Senior Care, our mission is to offer seniors the opportunities to follow their dreams and enjoy activities and interests that have been a part of their lives for years, or to try something completely new. Our friendly senior companions add a spark of fun that encourages seniors to step out and explore the world around them!
We understand as well that for many seniors, the comforts of home provide the greatest sense of peace and fulfillment. For those seniors, we gladly bring enjoyment and companionship directly to the home by offering Bayside home health aid, along with a full range of in-home senior care services, such as:
Planning, preparing, and serving healthy, nutritious meals
Help with housecleaning and laundry
Running errands, such as grocery shopping or picking up prescriptions
Personal care and hygiene needs
Ambulation and transfer services
Spending quality time together, playing cards and other games, engaging in hobbies, arts and crafts, listening to favorite music, etc.
Joining in exercise programs, as approved by the doctor
And so much more – based upon each senior's individual needs and wishes
Meet Our Caregivers
At Best Senior Home Care, we hear time and time again from clients and their families how impressed they are with their assigned caregiver. Our first meeting with each senior and his or her family begins with an in-depth assessment in which we learn as much as we can about the senior's needs, interests, personality, and what he or she hopes to gain from the caregiving experience. We then painstakingly select the caregiver we think will make a perfect match, with whom the senior will feel most comfortable. And if at any time the senior or family members feel that a change is needed, no problem! Families are always welcome to meet and interview our caregivers to choose the perfect companion. It's part of our guarantee to be the Bayside senior care company you can trust.
Ready to Take the Next Step?
To learn more about our Bayside senior home care services and Bayside home health aid and how they can enhance quality of life for a senior loved one in your life, call on Best Senior Home Care at 718-224-0905. We'd love the opportunity to answer any questions you may have, to provide you with some aging care resources, and to schedule a free in-home assessment at your convenience.