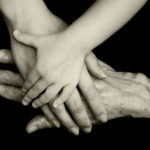 If you are one of the 42 million American women filling the role of caretaker for children and senior parents, you are likely forced to make some difficult decisions on a regular basis about the priorities of one or the other. And where do the things you need fall in this spectrum? Have you even thought about what it is you need?
You are not alone. Although caregiving often feels like it is a one-person show, it does not need to be. You, as the caregiver, deserve support, and assistance is out there. Step one is recognizing that there are solutions. Step two is becoming educated on ways to make the situation more manageable. Here are a few tips to help:
Hold a family meeting
Discuss the many different caregiving tasks that need to be accomplished each day or week.
Set mutual expectations of how the many tasks of caregiving will be accomplished.
Get the facts and avoid surprises
Caregivers should talk to their parents about how they're doing financially and what plans they've made if they become ill or incapacitated.
Ask for assistance
Call resources such as the local Area Agency on Aging, a hospital social worker, a physician, or a church.
Call for in-home care help from a local agency such as Best Senior Home Care.
Don't go it alone. Get relief by scheduling some caregiving assistance from Best Senior Home Care. We have trained and experienced caregivers and can help you start fixing the problems related to a life out of balance due to multiple care responsibilities.
Let us give you time to balance your life and be present for the roles you fill outside of being a caregiver. We provide home care services to Queens, Fresh Meadows, Whitestone, Forest Hills, Little Neck, Auburndale, Queens Village, Bellerose, Manhattan and the surrounding areas. For more information, please call us at 917-880-9373. Let our experience and our top rated senior care services help you and your loved ones today.