With the winter season on the way, it is important for the elderly to keep warm.  Tasty warm meals, such as chili and soups will leave a lasting glow of warmth in your loved ones stomach.  Elder care services can help your loved one with warm meals to keep them healthy, and can make sure mom or dad are getting the proper nutrition each day.  Elder care service providers can help seniors prepare simple and tasty, light meals that include soups, sandwiches, and fruit.
Soups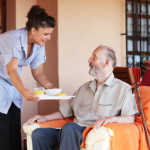 Soups are always a "go to" meal that can keep seniors warm.  Traditionally, chicken noodle soup is a favorite.  You can add a bit of variety to the soup by adding tortilla strips to it, or creating a hearty casserole by adding sour cream and topping it with crumbled crackers.  In addition, this dish is easy to prepare in a crockpot, this will allow for the preparation of larger portions that seniors can enjoy later.  Companions can easily research different variations of meals online.
Sandwiches and Panini's
Sandwiches can be an enjoyable and fun snack, or a great meal.  A simple grilled cheese sandwich made with tomato soup is delicious and easy to make.  Try cream of broccoli instead of tomato soup, or even add grilled tomatoes to the sandwich.  A Panini maker or sandwich grill is also an easy and excellent option for making perfectly grilled sandwiches.  You can use numerous variations of bread for these sandwiches, like flat bread or a heartier rye.  The possibilities are endless.
Bulk Meals for Day-to-Day Companionship
Elder care companions are great for helping to prepare meals in bulk.  If your loved one does not have a companion that visits daily, bulk meals are ideal for them.  Meals prepared to last the entire week are best stored in the freezer, via single-serve storage containers. Seniors can heat these meals in a microwave and enjoy them. This gives them the option of having a "home cooked meal" every day of the week.
Seasonal Fruit
Did you know grapefruit is a great winter fruit?  They stay ripe into the winter months and can prove to be a tasty treat.  Add the fruit to a hearty bowl of oatmeal in the morning and you will have a wonderful, warm meal, full of flavor and warmth.  Kiwi, mandarin oranges, and pears are also great winter options.  Cut them up and mix them with yogurt or cottage cheese for a side dish.  This also can provide a very tasty dessert or snack after a nice meal.
Elder care services can assist in making sure your senior gets the proper nutrition they need and can help them stay warm this winter.
For more information about elder care services in Little Neck, NY and the surrounding areas, contact Best Senior Home Care at 917-880-9373. Serving Bayside, Flushing, Fresh Meadows, Whitestone, Forest Hills, Little Neck, Auburndale, Queens Village, Bellerose, Manhattan and surrounding communities.