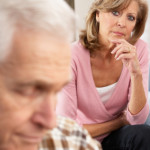 Maryann knew that this day was coming; when her mother was going to require some level of senior care. Her mother had been living alone for the past three years, ever since Maryann's father passed away, and as she approached eighty years old, her health was declining. Her mother's income was fixed through a small pension from her husband's work and Social Security and there wasn't a lot of money saved. Maryann was just getting by in her own life as well, so it was tough to manage.
She spent more than a few weeks trying to figure out all of the financial aspects of senior care services, such as: how much it would cost, how often her mother would require
some level of assistance and care, and whether or not Medicare or Medicaid would cover some of the expenses.
Maryann visited a few senior health care services agencies in the area and was given a rough estimate of how much it would cost to have quality care for her mother around the clock.
That's when she began to sit down and work through the budgeting for it. The first thing she learned was that due to her mother's income, though it didn't seem to offer much in the way of savings, she made too much for Medicare to cover anything for senior home services. They were going to need to determine how to make this work, because Maryann simply couldn't provide the right level of care that her mother needed, not with her busy work and family schedule.
Maryann's mother lived in the house where Maryann had been raised. It was a large house that had been just enough for her and her four siblings. Only one of her brothers was able to offer any financial assistance, but he also suggested that their mother downsize. "Does she really still need a home with four bedrooms?" No, she didn't, but if she didn't want to sell, she wouldn't. "But she's paying a fortune in property taxes, too. That money alone would probably cover a significant portion of senior care," her brother had said.
He was right, too. They figured that if their mother sold the house and moved into a smaller house or condo, she would have more than enough money to afford the best senior care that she would need. Sometimes, Maryann discovered, when your financial options are limited, the solutions are things that we don't want to think about. But once you remove the emotional connection to the situation, the decisions become easier to make.
For more information about senior care services in Forest Hills, NY and the surrounding areas, contact Best Senior Home Care at 917-880-9373. Serving Bayside, Flushing, Fresh Meadows, Whitestone, Forest Hills, Little Neck, Auburndale, Queens Village, Bellerose, Manhattan and surrounding communities.